AO News
AO Wins NASA Space Grant, Launches "Girls Educating Girls"
| | | |
| --- | --- | --- |
| | | The Girls Educating Girls initiative will provide mentorship and support for young women enrolled in STEM college programs, who will in return present their research through online modules to the next generation of students. |
---
Management Updates
Status of Telescope Damage Assessment and Repairs Plan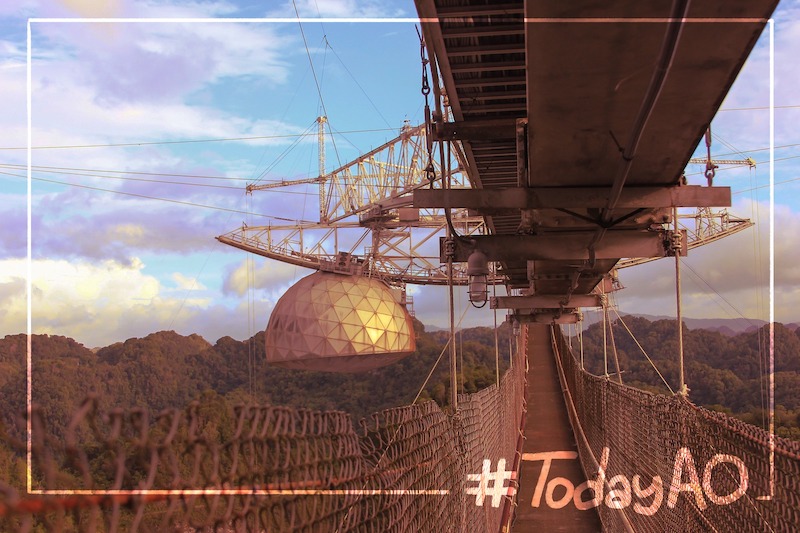 On August 10th 2020, a Tower 4 auxiliary cable that supports the telescope's platform experienced a failure that resulted in damage to the telescope's primary reflector dish and the Gregorian dome. We continue to be as transparent as possible about the ongoing status of repairs to the facility through a series of press releases and emails to you, the AO community; however, the process is slow as we develop the optimal plan for facility repairs while prioritizing the safety of our staff. 

Our staff, as well as the external firms we've hired, are working diligently to understand the cause of the failure and to return the telescope to normal operations as soon as possible. We expect to release another official public update on the status of the repairs in early October. You can find our most recent press release here. 

To see all previous and future public notifications about ongoing repairs to the telescope, visit our website.

We are extremely grateful for the continued support we've received from the AO community.



Installation of New Water Pump

In September, the AO maintenance team replaced an obsolete water pump from the 1960s with a new, efficient water pump to prevent future water damage to the facility's equipment. Without an effective pump, heavy rains can cause high water levels in the natural sinkhole in which the telescope resides, affecting equipment and operations. The new water pump was installed using part of the NSF's supplementary recovery award of $2.3M, which was granted to repair damages from Hurricane Maria in 2017 and mitigate the impact of future storms.
Cafeteria Upgrades
We have transformed our cafeteria! Since 1963, the AO Cafeteria has provided food services and generated many good memories for all of our staff, scientific, and student community. We want it to be a comfortable and inviting space that provides a feel of warm welcome. We will improve our overall experience with:
Color: We have chosen colors that will create a nice and relaxing ambiance.
Lighting: In the eating area, we have created a relaxed and friendly mood, while adding plenty of light for our kitchen staff to continue to perform their jobs well.
Layout: The new floor covering complements the ambiance, and our new floor plan allows for an easy flow.
Universidad Ana G. Méndez contributed $100,000 for the improvements and renovations. The cafeteria grand re-opening will be on October 2, 2020.
---
STAR Teachers Workshop Provides Virtual Activities & Training for 721 Teachers
| | |
| --- | --- |
| | Through a generous donation of $20,000 from the Ángel Ramos Foundation, AO developed virtual learning activities and provided eight free professional workshops for over 700 elementary and middle school STEM teachers across the island of Puerto Rico. + Read More |
STAR Academy features Astronaut Ellen Ochoa, other STEM speakers
The AOff STAR Academy launched its third semester on August 29th! Each Saturday, invited guests speak with the 33 high school student participants, including: former astronaut and first Hispanic woman in space, Dr. Ellen Ochoa; host of the Netflix show Emily's Wonder Lab, Emily Calandrelli; scientists from across Puerto Rico, AO staff, and many others! + Read More
Sharing the Connection: AO's Planetary Radar & NASA's OSIRIS-REx Mission to Bennu
Former AO director Dr. Michael Nolan presented a Professional Development Training Webinar titled "Twenty Years of Bennu: From Arecibo to Orbit (and Home Again)," for JPL's Solar System Ambassadors and Museum Alliance, highlighting Arecibo's role in understanding the mission's target asteroid. + Read More
| | |
| --- | --- |
| Tutorial: How to Build an Asteroid | |
AO scientist Dr. Sean Marshall has been leading a series of tutorials for other planetary scientists, training them to use computer software to develop models of asteroids using radar data collected by the Arecibo Observatory. + Read More
---
EDUCATION
AO Comic:

"Micro Comics"
Follow along with Greg doing the tasks that the AO team might find themselves fulfilling! Through our AO Comics, our readers can always be up-to-date on what's going on at Arecibo Observatory!
Why I Love AO Videos
We celebrate the Arecibo Observatory every day! Learn why our staff love working at our one-of-a-kind facility. Click here to follow the series of interviews!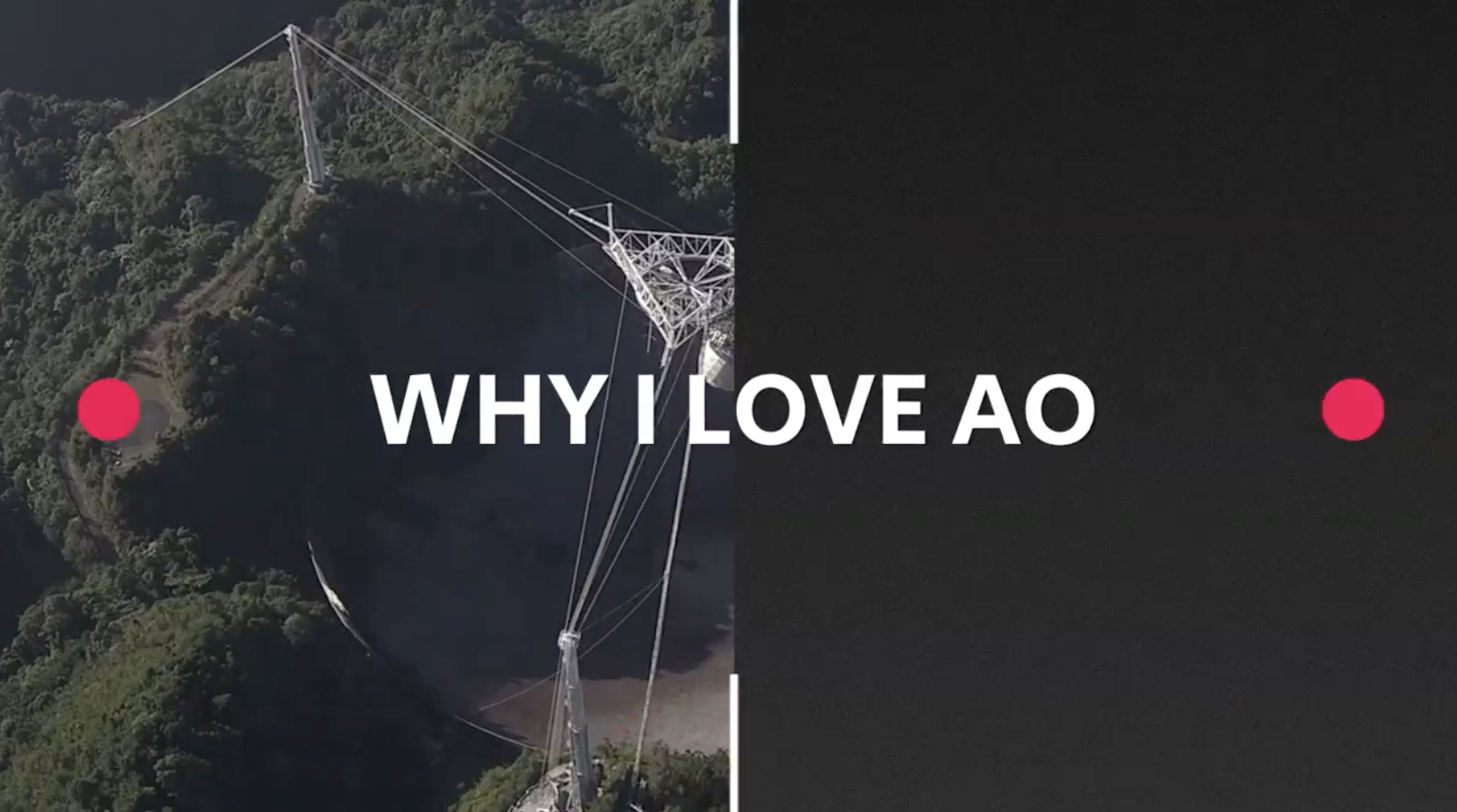 ---
Our New Staff Members

We are excited to welcome Keysha Gonzalez and Julio Alvarado to the AO team!
Keysha Gonzalez
Ms. Gonzalez is a Software Engineer II at the Arecibo Observatory, and is responsible for software development support, web development for science content, and researching cryptocurrency technologies. Ms. Gonzalez has a Bachelor of Science degree in Computer Engineering and a minor in Software Engineering from the University of Puerto Rico at Mayaguez. She is an active member of the Institute of Electrical and Electronics Engineers (IEEE) and the Association of Computing Machinery (ACM).
Julio Alvarado
As Arecibo Observatory's Big Data Program Manager, Mr. Alvarado will be responsible for developing and implementing data management, infrastructure improvement projects, and leading the effort in planning and implementing a cloud-based data storage facility for all telescope data. Mr. Alvarado earned his Bachelor's Degree from the University of Puerto Rico Mayaguez Campus in Computer Engineering, is certified as Six Sigma Green Belt, and he is currently pursuing a Master's Degree in Engineering Management.