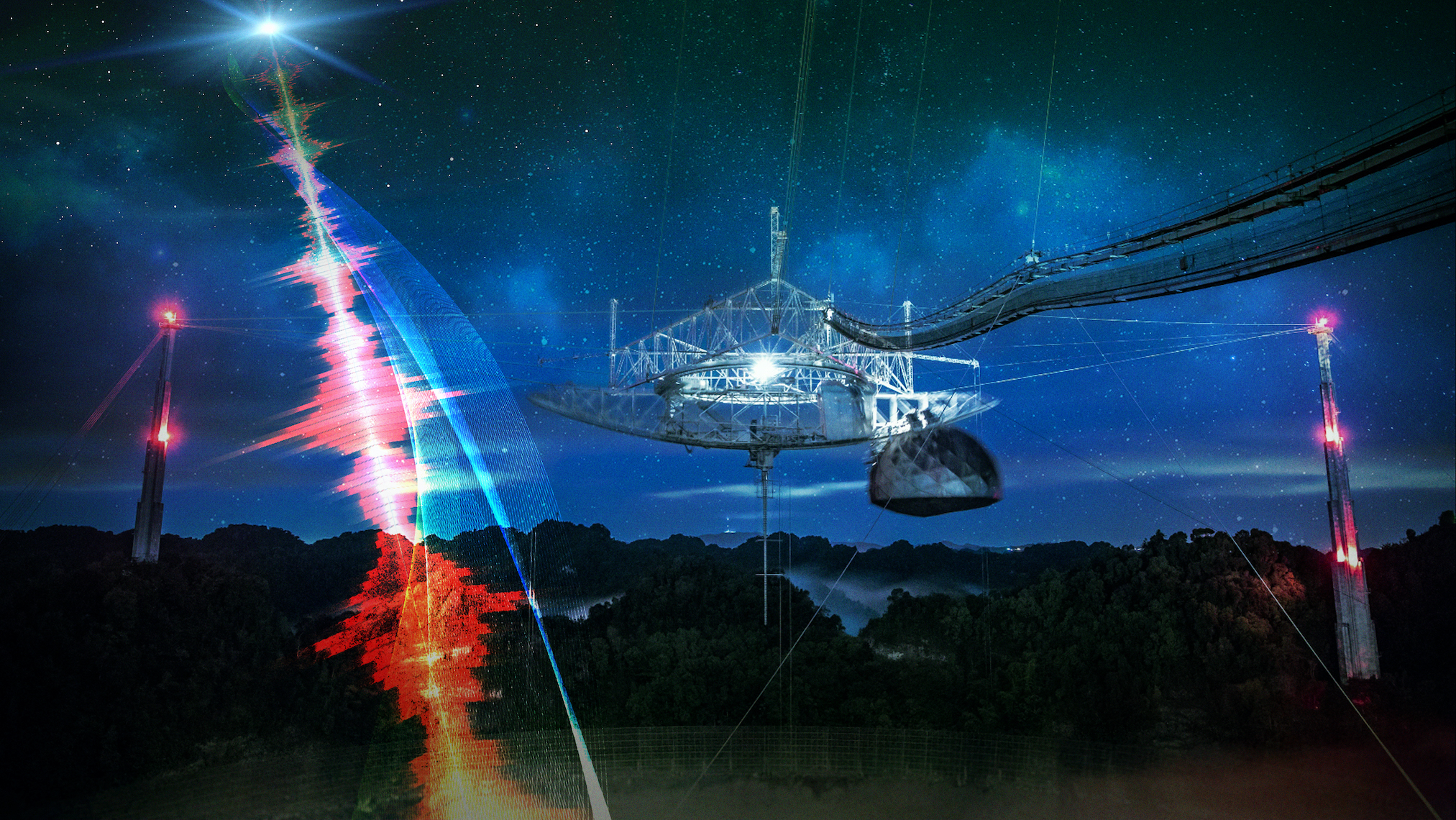 | | |
| --- | --- |
| Astrophysics | Hunting for the Mysterious Origins of Fast Radio Bursts |
Despite their explosive nature, the genesis of Fast Radio Bursts (FRB's) remains unclear. This enigma inspired Dr. Nipuni Palliyaguru and her team to launch a hunt for FRBs using one of the world's most sensitive radio telescopes – the Arecibo Observatory.

"FRBs are highly energetic radio bursts that produce millions of times more energy than the Sun, but only last a few milliseconds," explained Dr. Palliyaguru, a former postdoctoral researcher at AO, currently a postdoctoral researcher at Texas Tech University.

The short duration of the FRBs and their cosmological distances make them difficult to find and to study. Some FRBs have erupted multiple times - the first repeating FRB was discovered with the Arecibo Observatory in 2012. The bursts are hypothesized to result from a highly magnetized neutron star, or "magnetar," so the team opted to use AO to target regions known to host these objects in their search.

"We wanted to find the faintest bursts that could be out there, so we needed to use the Arecibo Observatory. The huge dish makes the telescope extremely sensitive to some of the farthest FRBs," Dr. Palliyaguru explained. After collecting 114 hours of data with AO, however, the eruptions remained elusive.
"We wanted to find the faintest bursts that could be out there, so we needed to use the Arecibo Observatory. The huge dish makes the telescope extremely sensitive to some of the farthest FRBs," - Dr. Nipuni Palliyaguru, Postdoctoral researcher at Texas Tech University
"FRBs are hard to catch!" Dr. Palliyaguru exclaimed, though she and her team are not discouraged. "We will apply a new machine learning algorithm called FETCH that will search through the ton of new data we collected to find any extremely faint signals that we may have missed."

FETCH is an ongoing effort at Arecibo to facilitate real-time FRB searches that will be particularly useful after the AO's upgraded ALPACA receiver is installed. FETCH was developed by co-authors on this work, Mr. Devansh Agarwal and Dr. Dunc Lorimer, and their collaborators.

Further, the non-detections suggest limitations on how often and how bright these FRB eruptions can be. Dr. Palliyaguru led a manuscript submitted to the Monthly Notices of the Royal Astronomical Society that shared the AO observations and assessed the new constraints on the luminosity function of FRBs. The paper also included additional FRB searches using the Green Bank Telescope.

Dr. Palliyaguru is driven by the excitement of catching a Fast Radio Burst in action and unravelling the mysterious origins of these extremely energetic phenomena. Her interest in this work went beyond its scientific potential, however. "One thing I really liked about this project was the student involvement."

In fact, the AO observations were mostly acquired by Mr. Benjamin Nguyen, who was an undergraduate student at Franklin and Marshall College at the time. Mr. Nguyen stayed on-site at the Arecibo Observatory for five months, supported by a collaboration between the NANOGrav project and AO.

"It was an amazing experience to be able to work with the telescope personally after seeing pictures and diagrams for years," expressed Mr. Nguyen. He, too, is inspired by the questions that FRBs provoke. "What extreme conditions have to be in place for these objects to occur in nature? Where do they exist?".

The research team also hosted workshops at the University of Puerto Rico to train 20 students to use computer software in order to search for specific signals in the AO data. "It is a lot of work for the students to learn how to distinguish between the FRB signal and the ambient radio frequency interference (RFI)," Dr. Palliyaguru explained, "but it was a very rewarding experience."
---
Article written by Dr. Tracy Becker - AO Collaborator / SwRI Research Scientist Contact: tbecker@swri.edu


Arecibo Media Contact
Ricardo Correa
Universidad Ana G. Mendez (UAGM)
787-878-2612 ext. 615
rcorrea@naic.edu

Head of the Astronomy Dept.
Dr. Anish Roshi
Arecibo Observatory
aroshi@naic.edu
Keywords: arecibo, observatory, Palliyaguru, energetic, radio, bursts, FRB, green, bank, arecibo, observatory, Royal, Astronomical, Society, NANOGrav, ALPACA