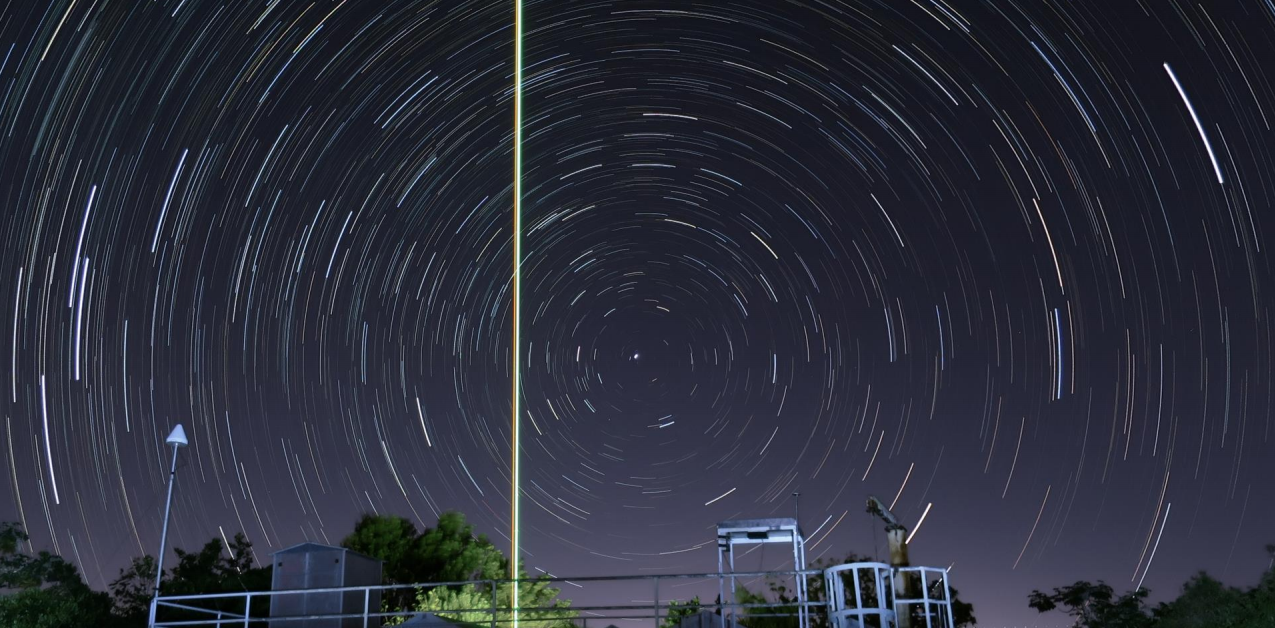 Scientists at the Arecibo Observatory (AO) have teamed up with UCF professors in the College of Optics and Photonics (CREOL) to establish a world-class virtual facility to implement innovative atmospheric-sensing technology in Puerto Rico.
The new technology uniquely combines the data from several small telescopes in a way that corresponds to the collecting area (or size) of a telescope with a much larger mirror.
To demonstrate this new technology, the team will deploy an array of seven 20-inch telescopes at the Arecibo Observatory. Arecibo already hosts a powerful Potassium Temperature LIDAR capability that bounces light off the edge of Earth's atmosphere to measure atmospheric temperature in the mesosphere and lower thermosphere.
By incorporating the additional seven telescopes into the Potassium Temperature LIDAR using the new, UCF-designed optical architectural design, scientists expect to nearly double the sensitivity and current aperture - the light-collecting capability - of Arecibo's Potassium Temperature LIDAR.
The project, known as PAOLA (Photonic Arecibo Observatory LIDAR Array), is also intended to show the potential power for similar upgrades to LIDAR systems across the world.
"The technology we are proposing to demonstrate will be revolutionary for LIDAR telescopes," says UCF Professor and project lead Dr. Stephen Eikenberry. "Arecibo is the natural place to do this given its long history of important scientific contributions in the field of atmospheric LIDAR, as well as the close connections enabled by the relationship between UCF and Arecibo."
Dr. Jens Lautenbach, the scientist in charge of Arecibo's Potassium Temperature LIDAR agrees that this project shows the power of collaboration between AO and UCF. "This technology has never before been tested or demonstrated with a LIDAR system, but through our extensive experience with LIDAR at AO and the expertise of our colleagues at UCF, it is now possible".
The goal of improving LIDAR systems is to produce new, better measurements of Earth's atmosphere.
"Atmospheric LIDAR is a crucial technology for studying and understanding Earth's atmosphere," explains Dr. Eikenberry. "Due to the rapid climate change we are experiencing, it is critical that we advance our measurement capabilities to better inform climate models and add scientific certainty to humanity's plans for dealing with climate change in the future."
The Jump Start Fund is an investment program created in 2021 by UCF president's Mr. Alexander Cartwright designed to help position UCF as the world's leading public metropolitan research university. The initiative results from a new strategic budgeting approach by Mr. Cartwright upon his selection as president in March 2020. The Jump Start Fund focuses on funding one-time projects for enhancing UCF academics and student success.
---
---
Keywords: arecibo, observatory, LIDAR, atmospheric